Tours of our sanctuary and grounds are available only with advance reservations.
The minimum donation for an in-person tour is US$80.00 per person and tours generally last about 1 hour.
100% of all tour donations go to the care and feeding of our rescued animals.

La donación mínima para un recorrido en persona es de USD $ 80.00 por persona y los recorridos generalmente duran aproximadamente 1 hora. Los recorridos por nuestro santuario y los terrenos solo están disponibles con reserva previa. El 100% de todas las donaciones del tour se destinan al cuidado y alimentación de nuestros animales rescatados.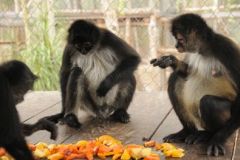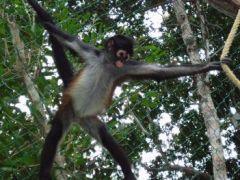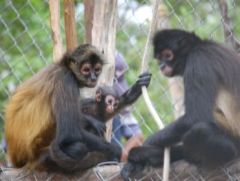 The emotional experience of seeing these remarkable animals is likely to be something you will remember
for the rest of your life. Some have told us it changed their lives, changed their outlooks and even inspired them to
give something back to the earth in their own way. Whatever you take from the experience we hope it includes a new
understanding of the dangers these and other animals face due to illegal pet trade, habitat destruction and poaching.

For reservations please contact us by email or by telephone at : 52 984 116 9777
Only a few tour dates are available per week and they usually fill up quickly. Please contact us as far ahead of time as possible to allow us the best chance of finding an opening on the dates that you would like to visit.
A non-refundable deposit of the minimum donation is required to hold your reservation.
Please note that interaction with some of our spider monkeys may or may not be possible based on a number of factors. We must first guage their general mood and reaction to meeting you at the time of your visit, While direct interaction is often possible, the comfort and welfare of the animals is our only priority and interaction may be declined for any reason. Children under 8 years of age may not interact directly. Please avoid wearing mosquito repellants containing DEET, heavy perfumes, scented sunscreens, etc. if you do wish to interact directly, and always obey any instructions given to you by their caretakers. While you will be meeting the most gentle and docile of our adopted family always be mindful of the fact that they are wild animals. Monkeys can and will bite if threatened, provoked, or frustrated about something so always listen to their caretakers and be respectful of their instructions.
Copyright © 2017 The Jungle Place Spider Monkey Sanctuary Quintana Roo, Mexico-- Privacy